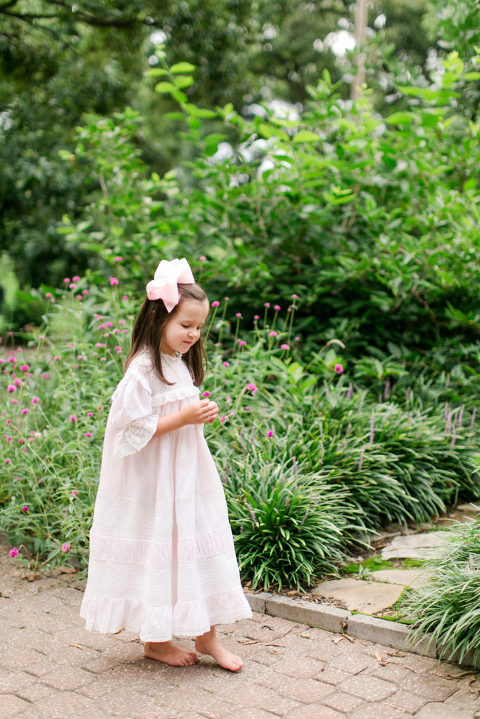 I love the feel of this beautiful Pink Heirloom Dress portrait!
There is nothing sweeter than a little barefoot, southern girl, in a Pink Heirloom Dress, frolicking down the path in her own little world! I love her dainty little feet, ready to take the next step, off to wander and explore the world. And I love her sweet little hands, gently grasping a little delicate flower.
Several months ago, I sent out a newsletter announcement that I was coming to St. Louis for Summer Sessions. Within a matter of moments, I had received a response from this sweet mom that she needed to book a session. Her sweet baby girl, the only girl with 3 older brothers, was turning Five, and had a very special, pink heirloom dress that she wanted her daughter to be photographed in! Mom told me that she had been wanting to have this portrait done for a few months, and had been holding onto the dress, but just couldn't find the right photographer to trust with such an important photo! I have photographed this family several times over the years, and when she saw I was coming to town, she knew she had to book a session!
I'm so glad she did! It's such an honor to be asked to photograph a family or child over and over, through the years! But to know that you are being asked to create an heirloom portrait, one that will hang on the walls and be passed down for generations…. That is so awesome!! I hope this image is one that mom and dad will look back on for years and years, and be filled with sweet memories of the simple days when their baby girl had the entire world to explore!
If you are interested in creating beautiful, heirloom portraits of your children or family, contact Baltimore Family Photographer, Robyn Osten. Fall is filling up quick, with only a few weekends remaining! Want to keep up with all the happenings and specials at Robyn Osten Photography, be sure to sign up to follow our blog feed, in the upper right corner!